DYSPHORIA - Poetry Competition
24jun6:00 pm8:00 pmDYSPHORIA - Poetry CompetitionWord of Mouth6:00 pm - 8:00 pm Event Organized ByWord of MouthCafe Calypso Downtown, 414 Starr St.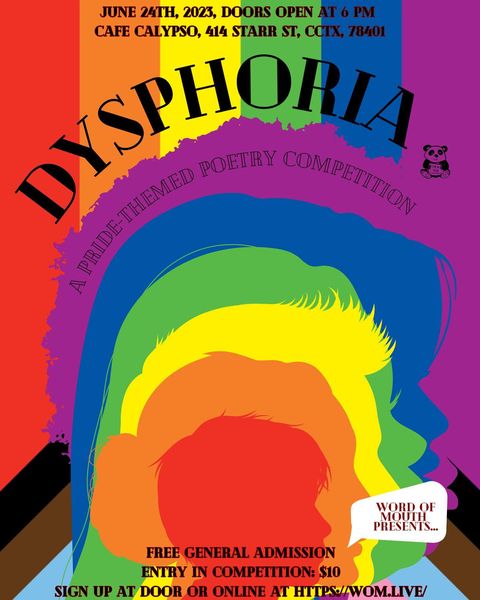 Event Details

Word of Mouth presents "DYSPHORIA", a pride-themed poetry competition! Google "dysphoria", and you find the literal definition: "a state of unease or generalized dissatisfaction with life." However, in witnessing the testimony of so many prevailing voices in the lgbtq+ community, its clear that those who experience gender dysphoria are anything but "dissatisfied with life". This country continues to fail our trans and non-binary friends, but their fight to live against these frightening odds is all but "dissatisfied with life". We are excited to celebrate this month of pride, as it inspires so much power in poetry across the world. Show us how you define dysphoria, and compete in this next poetry competition! Bring in any piece, pride-themed or not, to Café Calypso on June 24th, 2023; doors open at 6 PM. $10 entry fee to the competition, and free admission to watch!

more
Time

(Saturday) 6:00 pm - 8:00 pm
Location

Cafe Calypso Downtown

414 Starr St.
Organizer
Word Of Mouth Live, based in Corpus Christi, Texas, is an event organization focused on community engagement through the arts. They organize events featuring chess, music, poetry, and fashion with the aim of uniting diverse local communities. By creating inclusive spaces for people to connect, Word Of Mouth Live showcases a variety of artistic expressions and fosters a sense of belonging among community members. They strive to facilitate shared experiences and meaningful interactions, ultimately working towards building a stronger, more united community