Annual PRIDE Parade Encouraging Entries
May 06, 2019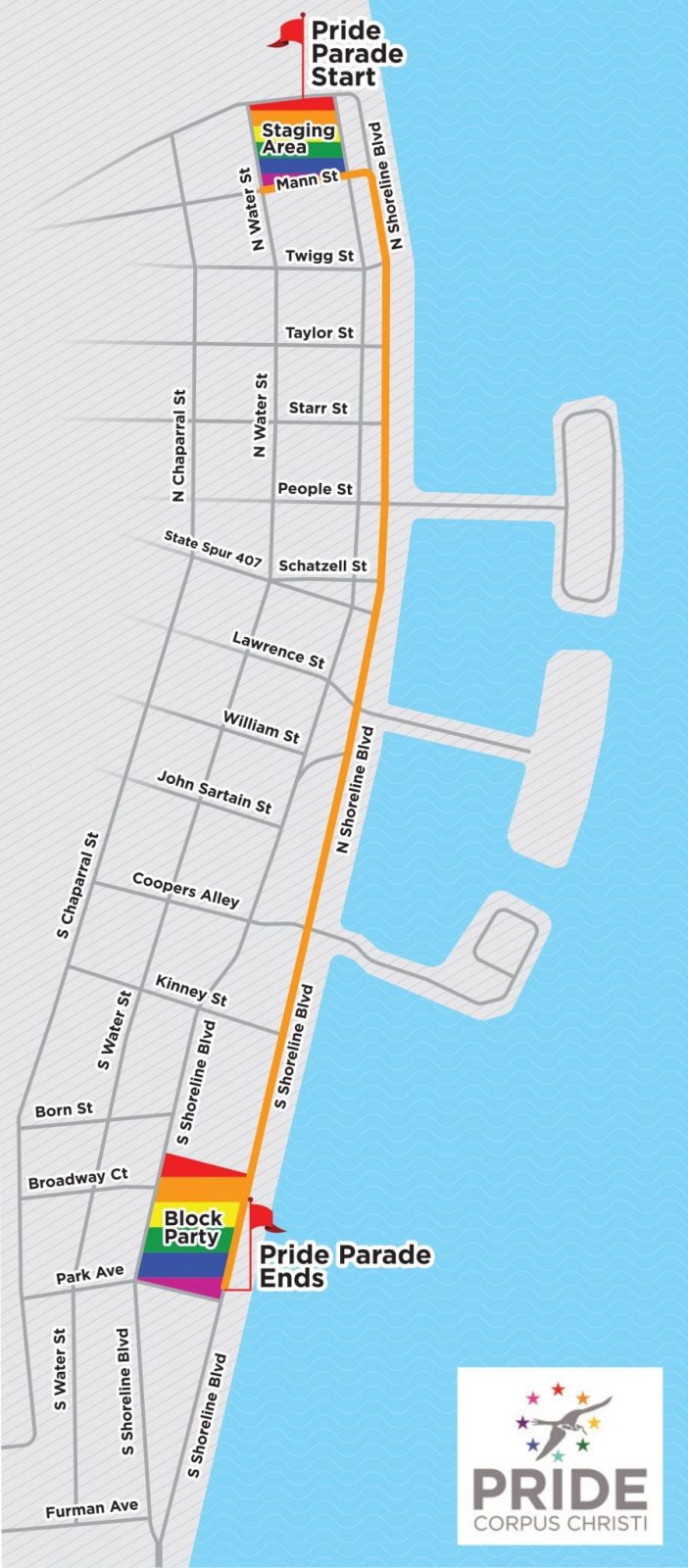 The third annual PRIDE Corpus Christi Parade scheduled for Saturday, June 8, 2019, from 3 – 4 p.m. is encouraging individuals, families, groups, businesses, non-profit and service organizations, school affiliated groups, governmental entities, and others to sign up now to guarantee a space in the parade.
The parade route will be approximately one mile long from Shoreline Boulevard and Mann Street south along Shoreline Boulevard ending at Water's Edge Park. Nueces County Judge Barbara Canales is the Parade Grand Marshal.
"The goal of PRIDE Corpus Christi is to make this parade a community celebration, not just for the LGBQIA+ community, but for every sector of the Coastal Bend who benefit from the contributions made to the economic, civic, charitable and faith life of the community," said Bill Hoelscher, President of the Mosaic Project of South Texas. "LGBTQIA+ individuals are your neighbors, business associates, team members, service workers, and touch almost every aspect of your daily life."
Entry fees for the parade are:
| | | |
| --- | --- | --- |
| | Commercial Business | $150.00 |
| | Non-Profit Organization | $ 75.00 |
| | Governmental Entity | $ 50.00 |
| | Active Duty Military or Veterans' Organization | No Charge |
| | School Affiliated Group | No Charge |
| | Miscellaneous Group | $ 25.00 |
| | Private Individual | $ 10.00 |
The parade encourages floats, vehicles, motorcycles, bicycles, scooters or other wheeled units, marching groups, as well as individual walkers. There is no charge for veterans/military groups or school-affiliated groups.
Float:  A float is a decorated and/or illuminated exhibit (Lighting Only Required for Night Parade) or scene mounted on a mobile platform or trailer and pulled or driven in the parade.  
Marching Bands:  A group in which instrumental musicians perform marching down the parade route.
Miscellaneous:  Any unit other than bands or floats that may consist of marchers, drill teams, athletic groups, horse units, motor clubs, etc.  Motorcycle clubs are restricted to a maximum of twenty (20) motorcycles per club.  Car Clubs are restricted to a maximum of ten (10) cars per club.
 Anyone that chooses to walk the parade route must be at least 16 years of age.  Marchers under 16 years of age must be accompanied by a parent, legal guardian, school sponsor, or organizational chaperone.  For the safety of parade participants and observers, the Mosaic Project of South Texas Inc. prohibits throws in the parade and recommends items be handed out along the parade route. PRIDE Week is being organized by the Mosaic Project of South Texas, a 501(c)(3) non-profit organization. For more information on PRIDE Week 2019, please go to the Parade page.