Dive Into a Month of Celebration: Pride Corpus Christi's Pride Month Events
March 16, 2023
Full Schedule (Official Events)
This June, get ready to immerse yourself in a wave of excitement as Pride Corpus Christi presents a series of events celebrating Pride Month! With events for all ages and interests, the Corpus Christi LGBTQIA+ community and its allies are invited to join in the fun, support each other, and create lasting memories.
LGBTQIA+ Prom
On June 3rd, the Youth LGBTQIA+ Prom at the Coastal Bend Pride Center welcomes those aged 13-18 and their allies to a 'Night Under the Sea' themed prom. Don your ocean-inspired outfits and enjoy a magical evening with refreshments provided. Tickets are available online now for $10.
St. Paul UCC Open & Affirming Sermon
Pride Month festivities commence on June 4th with an open and affirming sermon at 10:30 AM at St. Paul United Church of Christ, led by Pride Corpus Christi board member Reverend Dana Worsham. This event emphasizes the importance of open and affirming churches in fostering an inclusive and supportive environment for the LGBTQIA+ community. Following the sermon, attendees are invited to join a communal potluck, celebrating unity and togetherness.
Gay Bar Party & Movie Night at Alamo Drafthouse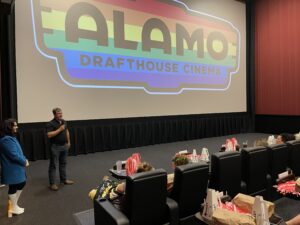 On June 4th, the annual Hidden Door Pride Week Kick Off event returns, with more details to be announced soon. Then, on June 5th, join us for the Alamo Drafthouse Movie Night, featuring the critically acclaimed film Kinky Boots. This heartwarming movie, centered on acceptance and friendship, follows the story of a struggling shoe factory owner who partners with a drag queen to create a unique line of shoes for the drag community. The film embodies the spirit of Pride Month, working together and is a must-see for everyone. Tickets, which include a performance by Robyn Valentine, and a gift bag with branded Pride items, are $25 per person, with food and drinks sold separately. Tickets are available now!
Comedy Night & Professionals Mixer
Get ready for a night of laughter and pride at our updated Pride Corpus Christi Comedy Night on June 6th! Join us at 7PM at the Mesquite St. Southside location for an unforgettable evening filled with hilarious stand-up comedy, all for just $25 per person. Get your tickets now!
The fun begins with the fabulous Eric Williams, a Los Angeles-based comedian and host of the popular "That's a Gay Ass Podcast." But hold on to your seats, because the laughter continues with our headliner, the legendary Poppy Champlin, who will be inducted into the Rhode Island Comedy Hall of Fame on May 20.
After our incredible Comedy Night, don't forget to attend the Coastal Bend Pride Center's Out Professionals Mixer at BUS (Bar Under the Sun) on June 7th. This mixer is the perfect opportunity to connect with fellow LGBTQIA+ professionals in the community.

Poetry Night & Artful Expression
On June 8th, immerse yourself in an evening of lyrical eloquence and visual creativity at our Poetry Night. This special event features readings from the captivating Switchgrass Review and offers a platform for local artists to display their work.
But there's more to the evening than words and art. We will also be hosting a Silent Art Auction, where you can bid on unique pieces lovingly crafted by our talented community members. This is your opportunity to take home a piece of Pride Month, as well as support a worthy cause.
All proceeds from the auction will directly benefit the Coastal Bend Pride Center, aiding their mission to nurture and empower our local LGBTQIA+ community. It's art with a heart, and every bid makes a difference.
Are you an artist wishing to contribute to our cause? We welcome and appreciate donations of art for the auction. Please contact robertk@cbwellness.org to discuss your generous contribution.
Join us for an enchanting evening where poetry, art, and community spirit intertwine. We can't wait to share this unique event with you!
Pride Pub Crawl with Gemini B. York
Get ready for a night of revelry and community with the annual Pride Pub Crawl, hosted by the fabulous Gemini B. York. Our Mistress of Ceremonies will guide you through an evening of fun, friendship, and pride in the heart of downtown Corpus Christi.
The Goldfish Bar (5:30-7:00 PM)
Start the evening at The Goldfish Bar with a warm welcome and a photo op to remember the occasion. Indulge in our signature drink, the Pride Sangria, as you mingle and soak in the Pride vibes.
Rockit's Whiskey Bar & Saloon (7:00-8:30 PM)
Next, we'll head to Rockit's Whiskey Bar & Saloon. Here, you'll be able to enjoy our signature Skittles Shot and fill up on $1 pizza slices while celebrating with fellow Pride attendees.
House of Rock (8:30-10:00 PM)
At the House of Rock, get ready to groove with DJ Johnny Hotcakes in the mix. At 9:00 PM, prepare to be dazzled by a special Drag Show featuring our host, Gemini B. York, and her friends. Don't forget to take advantage of the Buy One, Get One offer on pizza slices!
Cassidy's Irish Pub (10:00 PM-TBD)
The night isn't over yet! Cassidy's Irish Pub is our final stop, where you can enjoy live music from TomCat and some back room shenanigans. Sip on our Out & Proud Cocktail served in a commemorative cup, available while supplies last.
This pub crawl promises to be an unforgettable part of Pride Corpus Christi, showcasing the city's vibrant nightlife and bringing our community together. We look forward to seeing you there!
5K Marathon & Pet Paw-rade
Start your day on June 10th with the first-ever Coastal Bend Pride Center's Rainbow Run/Walk 5K at Cole Park. Show your support by participating in this colorful event with tickets starting at $15. Immediately following the race, join the 3rd Annual Pet Paw-rade at St. Paul United Church of Christ. This free event includes an adoption drive, hot dogs, a bouncy house, and a Pride costume contest.
'Fun Home' at Harbor Playhouse and PACT's '5 Lesbians Eating a Quiche'
From June 30th to July 2nd, don't miss the Harbor Playhouse production of 'Fun Home,' featuring talented members of the community. This poignant and Tony Award winning musical tells lesbian cartoonist Alison Bechdel's coming-of-age story while exploring themes of identity, family, and self-discovery, making it the perfect production for Pride Month. Tickets are available for $20 per person and are available now!
In addition, the Port Aransas Community Theatre (PACT) is proud to produce the hilarious and quirky show, '5 Lesbians Eating a Quiche.' Set in the 1950s, this witty play revolves around five women who come together for their annual quiche breakfast, only to discover that they share more than just their love for quiche. As the story unfolds, the characters explore themes of identity, sisterhood, and acceptance. The performances will begin on June 15th and run until Sunday, June 18th, offering you a chance to immerse yourself in this entertaining and thought-provoking production.
LGBTQIA+ Art Gallery Exhibit at PRODUCE® Bar & Gallery
Among the festivities, don't miss the powerful LGBTQIA+ art exhibit, "Day Dreaming Ourselves Awake," on display at Produce® Bar & Gallery from June 2nd to the 30th. This exhibition showcases an array of artistic expressions that explore the transformative potential of dreams in the lives of marginalized communities.
Join us for the closing reception on June 28th at Produce Bar & Gallery, 419 Peoples St, Corpus Christi, TX 78401. This event celebrates the creative talents of the LGBTQIA+ community and highlights the importance of dreaming as a means of inspiring change. Alongside the art exhibit, Pride Corpus Christi features events for all ages and interests, from proms and potlucks to movie nights and marathons. Mark your calendars and come together to create lasting memories while supporting the LGBTQIA+ community in Corpus Christi!
Corpus Christi Hooks & Community Drag Shows
Pride Corpus Christi is also excited to announce the return of Hooks Pride Night at Whataburger Field on June 21. Tickets are available now. Throughout June, Pride Corpus Christi is thrilled to sponsor various drag shows, including Azul Entertainment's Drag Brunch on June 4th at House of Rock, the 2nd Annual Glammy's Awards, and Robyn Valentine's drag show at The Bay Jewel on June 23rd. We also invite you to check out our online calendar for a complete list of official and unofficial events taking place through the month of June.
Free HIV/STD Testing
Don't forget that Pride Corpus Christi continues to offer free at-home HIV/STD testing through our website, and we'll be tabling at events across town. Stay tuned for even more events under development, all made possible by our generous sponsors, including the Coastal Bend Wellness Foundation, Coastal Bend Pride Center, HRMG, Dr. McIntyre Eye and Glass, the Downtown Management District, Attention Promo, Port of Corpus Christi, and many others.
Political Activism
As we celebrate Pride Month, it is essential to acknowledge the recent anti-LGBTQIA+ legislation and the importance of getting involved with organizations such as Equality Texas and the Transgender Education Network of Texas (TENT). Now, more than ever, we must band together as a community and show our Pride in defiance of efforts to restrict access to healthcare, economic vitality and force our community back into the closet. Together, we can create an inclusive and supportive environment for all.
Mark your calendars and join us for a spectacular, community-driven Pride Month in Corpus Christi!